I am So Honored to have become The Brand Ambassador of Lulu Guinness in The Middle East. As Kate Moss Always has been my style icon, representing Lulu Guinness Bag the way she does it makes me feel overwhelmed.Love Lulu, Love Kate and love the Bag. Lulu Guinnness bags are Big Favourites for most of the IT Girl celebrities around the world, specially in Hollywood and London. So excited about this journey:-) #love#fashion #luluguinness #itbag
#red #lip #lululovesuae #katemoss #styleicon#icon
#fab #ninastyle #ninaz #itgirls #fashionistas #fashionista#fashionhouse
#instafashion #instagram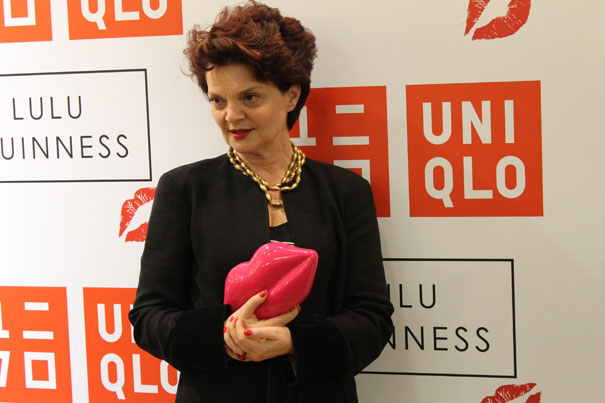 Lulu founded Lulu Guinness in 1989, and her intention was always to be slightly outré and push boundaries. She designed her first bag in the basement of her London home and critical acclaim and praise from leading fashion industry figures soon followed, paving the way for Lulu Guinness to be sold around the world as well as London.
Today Lulu still lives by the motto of her hero, Surrealist artisan and fashion designer Elsa Schiaparelli's 'Dare to Be Different', and the women who wear Lulu Guinness do just that.
Lulu is the living, breathing personification of her brand: you will never catch her without her trademark red lipstick. The central motif, the distinctive Dali-esque lips clutch, remains the brand's staple accessory, transporting the Surrealist art movement into mainstream popular culture. From Madonna to Kate Moss, Helena Bonham Carter to Florence Welch and Katy Perry, Lulu's fan base continues to grow at a rapid rate.
Lulu Guinness opens its first Middle Eastern store at Dubai's Souk Madinat Jumeirah
"Fashion is meant to be fun" – Lulu Guinness
This summer sees iconic British accessories designer Lulu Guinness, OBE, make her Dubai debut with the opening of her first store in the Middle East. In partnership with Dubai based franchisee AMZ group, the boutique opens in Dubai's Souk Madinat Jumeirah at the end of July 2014 in time for Eid, the launch of Lulu's AW14 collection and the brand's milestone 25th anniversary in October.
The AW14 COLLECTION..