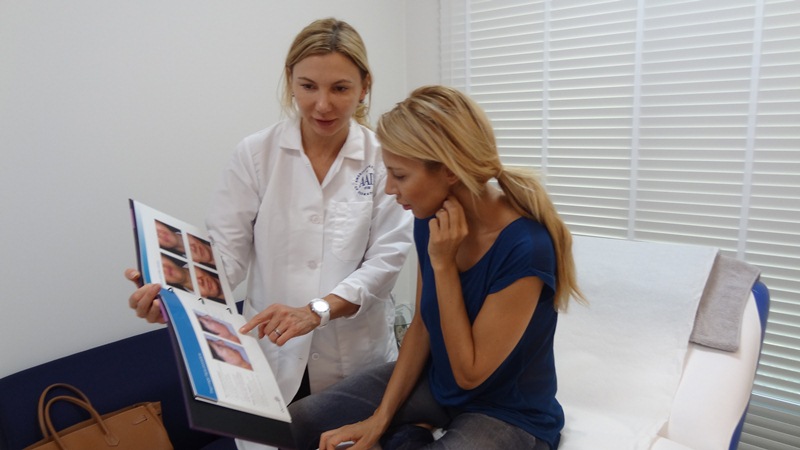 We invited our lovely patient, Dubai's Number 1 fashionista and Media Personality, Nina Zandnia to try out our latest anti–ageing, skin rejuvenating device we are extremely thrilled to have at our centre.
Let us introduce the brand new and exclusive to Lucia Aesthetic and Dermatology Centre…We are proud to say, as of now; we are the only clinic in Dubai to have this new, exciting platform. And who better to invite, than the lovely Nina Zandnia to come and try out our latest aesthetic toy.This unique device is brought to you by the same developers and producers as Fraxel and the famous, Thermage
So,What it is?: A non-invasive resurfacing laser treatment that promises to even skin tone, boost radiance, reduce pore size, and enhance elasticity by creating millions of microscopic holes in the surface of the skin and kicking collagen into healing overdrive, promoting cell renewal and increases cell turnover. A series of once-a-month sessions can keep early signs of aging at bay; as well as encourage skin restoration.
Clear and Brilliantcan deliver Fraxel-like results after only a single session, without the prolonged recovery time and can easily fit into your busy lifestyle. Additionally, the Perméa™ hand piece visibly improves pigmentation and melisma problems, as well as increasing skin permeability to increase the benefits of a topical regimen for improvements in skin appearance.
Clear + Brilliant is effective on:
-  Aging skin to help improve tone and texture
- Dull skin to give more natural radiance and smoothness
- Minimizing the appearance of pore size for a smoother overall look
-  Increasing permeability for added benefits of topical products (Perméa)
-  All skin types

For more information visit luciaaestheticdermatology.com Or if you would like to try this treatment, call +97143854525