Hello Everyone, So sorry for not being able to Update you as internet in Iran was not working very well.. But now I am back in Dubai and will tell you my story about my trip to my Parents Homeland Iran. I have to say that My trip to Tehran/Iran Changed my life. For The First time in my life I felt my Roots. I never Felt I was Iranian as I always considered my self Swedish-Persian From New York. I can Proudly say that after my Journey in Iran I feel more Persian/Iraninan than ever before.
As this was literarly my first trip to Iran/Tehran. I had so many mixed feelings, I was scared, nervesous and constantly worried before my departure. As one should be considering everything we read and see in the Media about Iran.
Well let me start my story by telling you that from the second my plane landed in Tehran and the pilot announced that our Hejab Needs to be on, this gentle Iranian lady stoke my face with a smile and said ' You are so beautiful, child let me help you to put your scarf on your head in a right way. She then gently with her soft voice said to me, "Welcome to your Own Country Beautiful Girl" in that moment I felt goosbums on my whole body. The smiling faces that greeted me at the airport was beyond words.
The Beautiful places and the Beautiful people that I met was way beyond my expectations. I had already few friends in Tehran that I have known most of my life, but the way their friends welcomed me in to their homes and into their lives made me feel so blessed. I always Though Iranian girls were difficult and I never had anything in common with them or their mentality, But how Wrong was I?? I met The Most Beautiful Girls with the most beautiful Hearts. I felt Home!! I felt AMAZING!! I Felt I AM IRANIAN and these people are part of me and I am part of them.
I met my Amazing Uncle and his wife, and I only have met them 2 times before in my life, they are the only family that I have in Iran. They were so lovely and so kind. I had an amazing time with them.
When it come to Restaurants 2 of my friends have the most exclusive and best restaurants in Tehran. Divan and Modern Elahiye are few of them, if you are in Tehran you have to go and eat there. When in came to fashion and parties, Well Let me tell you…Tehran ROCKS!!!! Everyone dresses very Fashionable and the parties are BEYOND WORDS. I am a New Yorker, but NOTHING CAN BEAT TEHRAN'S NIGHTLIFE;-)
I am in Love with My Beautiful Iran and its people!! Here are some photos for you to see.
At the Dubai Airport;-)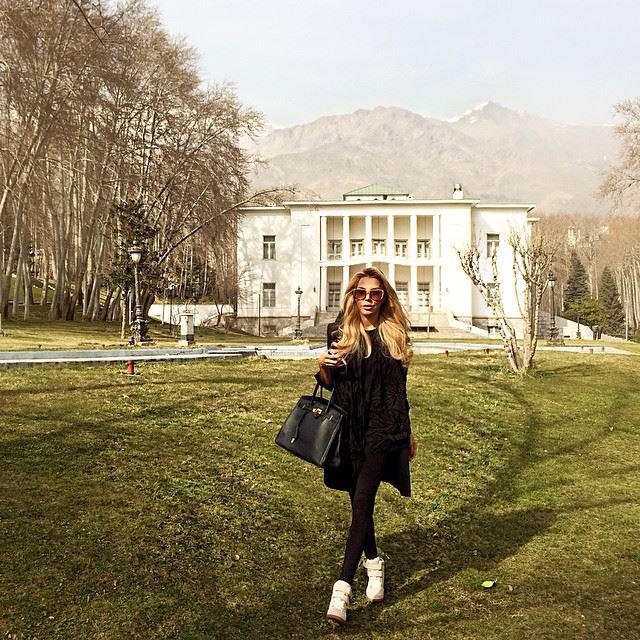 With The Most Beautiful Girls in Tehran at Chi Bar, Leila Joons beautiful place.